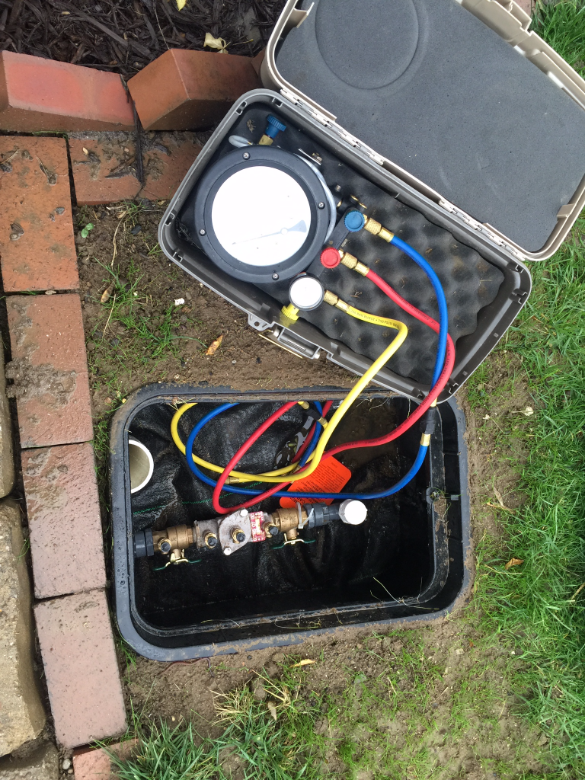 Back Flow Assemblies
There are 4 types of back flow assemblies: Double Check Valve Assembly, Reduced Pressure Backflow Assembly (RP Backflow), Pressure Vacuum Breaker. The most common assembly in Wenatchee and East Wenatchee is a double check valve, followed by a RP Backflow. They are found on domestic sprinkler systems and fire protection systems. Travis Richardson is a certified backflow assembly tester and is certified to test assemblies on East Wenatchee Water District's system, City of Wenatchee's system, and Chelan County PUD's system.
FAQ-
What is a back flow assembly?
A back flow prevention assembly is a mechanical device that allows water to flow only in the intended direction. The assembly prevents the reversal flow of water or other substances from entering the potable drinking water system.
Washington State Department of Health requires (WAC 246-290-490) a Double Check Valve Assembly to be installed when a landscape irrigation sprinkler system uses or is designed to use domestic water as the only water source. A Reduced Pressure Back Flow Assembly is required if your landscape sprinkler system has a cross connection of irrigation water and domestic water. You will also find back flow assemblies on fire protection sprinkler systems and Carbonated beverage machines.
Why do backflow assemblies have to be tested?
Any backflow assembly can fail because of freezing, debris, improper installation and unapproved plumbing connections. Backflow preventers are mechanical assemblies that have internal seals, springs and moving parts. Like everything else that is mechanical, the assemblies are subject to fouling, normal wear and fatigue. Sometimes backflow assemblies and air gaps are bypassed. Washington state law requires that backflow assemblies be tested annually by a certified backflow assembly tester to ensure that the assemblies are working properly if there is a backflow event. Annual inspections are necessary in order to keep the public drinking water system safe from possible contaminates. A visual inspection of an air gap is sufficient, but backflow assemblies must be tested by a Certified Backflow Prevention Assembly Tester using a properly calibrated gauge.
Where would a backflow assembly be if I had one?
If installed correctly, your assembly will be within 3' of your main shut off for that system. They can be found in numerous places. Ex-By the sidewalk close to your water meter, near the house where the main water supply comes in, or under your house near the main water supply. If installed incorrectly, assemblies cannot be properly identified or tested. If you have a domestic fire system, they can be found in your garage. Back flow assemblies can also be found near Carbonated beverage machines and ice machines (Restaurants, Convenience stores, Grocery stores, Schools, Bars).
What do I need to do if I have a backflow assembly?
Assemblies are required to be tested and inspected upon installation and annually after that to ensure that they are properly working. The results are sent in to your local water purveyor. If you live in Wenatchee, you need to get a $50 permit to install a back flow assembly. This is where to go for the permit: http://www.wenatcheewa.gov/index.aspx?page=135
Can anybody test back flow assemblies?
Only a Washington State Certified Back Flow Assembly Tester can perform the required test on the assembly. This tester also has to be listed with the water purveyor with their Washingtin State certification card and test kit calibration report. There are only 13 BATs in Chelan County. Travis Richardson B5935 of Allthrive LLC, is a Washington State Back Flow Assembly Tester, he is registered to test with the City of Wenatchee and East Wenatchee Water District. list: http://www.wenatcheewa.gov/Modules/ShowDocument.aspx?documentid=2126
More questions?
The city of Wenatchee web site is a great place to search.
http://www.wenatcheewa.gov/index.aspx?page=338
If you live in East Wenatchee try looking here.
http://www.ewwd.org/Backflow.htm
Fill out form below to ask more questions or set up an appointment for inspection and certification.